Listing by Company Name: A B C D E F G H J K L M N O P R S T V W

The Right Guy Carpet Cleaning, Inc.
**We are a professional cleaning service of carpeting, area rugs, furniture, and tile & grout cleaning.
**Along with our cleaning services, we offer new carpet and vinyl plank flooring sales and installation.
**We are now adding air duct and dryer vent cleaning services starting late January, early Feburary of 2021. Which we are very excited to start offering this service!
**If you would like area rugs cleaned, we offer pick up, cleaning, and return delivery of area rugs as well.
**Some issues we can help with include pet spots, ink, blood, coffee, mud, pop, wine, etc.
**You can call us to clean for residential homes, businesses, restraunts, townhomes, apartment buildings, churches, and rentals for landlords & property managers. We offer discounts to churches and some non for profit charties.
**Our vans are equiped with powerful machines and quality equipment to get the job done correctly and our employees are fully trained in many different ways to clean depending on the issues.
**Our company is insured and certified by IICRC for cleaning and we carry workmans comp insurance for our employees well.
**Most of our business is local Fox Valley region from Yorkville, Sugar Grove, Montgomery, Oswego, Aurora, North Aurora, Batavia, Geneva, St. Charles, Elgin, and Napervile. So many times you'll see us travelling up and down Rt 47 and Randall Rds.
Contact: Rob Reynolds
2948 Kirk Rd.
Ste. 106-185
Aurora, Illinois 60502
Phone Number: (630) 264-4369
Email Address: TheRightGuyCarpetCleaning@gmail.com
Website: www.carpetcleaningservicesaurora.com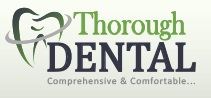 THOROUGH DENTAL P.C.
Dentist
Periodontist
Braces/Invisalign
Implant
Crown/Veneer
Denture
Extraction
Sleep Apnea Appliance
Night Guard
Contact: Param Vijay
522 N Sugar Grove Parkway
Suite B
Sugar Grove, Illinois 60554
Phone Number: (630) 466-2000
Fax Number: (630) 466-2002
Email Address: contact@thoroughdental.com
Website: www.thoroughdental.com