Listing by Company Name: A B C D E F G H J K L M N O P R S T V W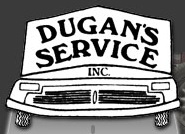 Dugan's Auto Service, Inc
Dugan's Service Automotive repair established in 1977 and located in Big Rock. The shop was expanded in 1982. In 1986 and 1987 two storage buildings were added. We have been serving the local communities for over 35 years.
Contact: Mike Dugan
46W637 US Highway 30
Sugar Grove, Illinois 60554
Phone Number: (630) 556-3755
Email Address: dugansauto@aol.com
Website: www.dugansautoservice.com

Rich's Auto Service, Inc.
Big Time Service:
Towing, general maintenance – oil changes, starters, alternators, brakes and tires. We'll keep your vehicle in working order to maximize its value for as long as possible.
Small Town Values:
Our staff is experienced, friendly and will treat you fairly – we'll even pick you up and give you a ride home if you need it. We treat our customers the way we would want to be treated.
Contact: Kim Wendling
110 S. Route 47
P.O Box 282
Sugar Grove, Illinois 60544
Phone Number: (630) 466-9703
Email Address: kawendling2@hotmail.com
Website: www.richsautoserviceandtowing.com